Some of the links in this post are affiliate links. I only recommend products I personally use (and LOVE) myself. For more information,
click here
.
The other day I went over to Google and typed in "how to post affiliate links on Pinterest"… because I've been wanting to test this traffic source out for quite a while now.
I was surprised at how little help the results were that I found on the first page of Google.
Most of what I found was talking about Pinterest's decision to allow affiliate links again back in May of 2016.
Everything else I found basically told me to find an affiliate product to promote, pin the affiliate product's page, and then go back and edit the URL of the pin and add my affiliate link.
While that's cool and everything… that limits what I can pin. I'm basically limited to pinning sales pages.
Or, in the case of Amazon, I could pin a product page… except that Amazon doesn't allow their affiliates to promote products on Pinterest. Dang.
What if I wanted to promote a Clickbank product like, Ted's Woodworking?
How could I do that on Pinterest?
Here's how…
How To Post Affiliate Links On Pinterest (The Old Way)
I say "the old way" because I personally think my "new way" is so much better… even though "the old way" still works.
Before I reveal my super-sneaky, awesome "new way"… let me walk you through "the old way" because I still suggest doing this too.
Step 1: Pin The Product's Sales Page
If you don't already have the Pinterest browser button… you can get that here. It just makes it easier to pin stuff right from your browser window.
Then, open up the sales page for the product you want to promote. In my case, I'm promoting Ted's Woodworking so I'll pull that page up.
Now, I'll click the Pin It browser button.
I'll choose the image on the top left as the one that's displayed on my Pinterest board.
I'll pin this to the Furniture board and then view the pin.
Step 2: Edit The Pin and Insert Your Affiliate Link
Now I'll click the pencil icon at the top left to edit this pin.
Now I'll replace the existing product sales page link with my Clickbank affiliate link.
Uh oh… guess you can't post Clickbank affiliate links to Pinterest anymore. Dang. Bitly links don't work either.
If you have a WordPress site, you can use the free Pretty Link Lite plugin and create a cloaked affiliate link to use here.
If you have no other way of creating a redirect link to cloak your Clickbank affiliate links… you'll have to move on to my new method below.
So, to finish off "the old way" I'll show you how it looks when it's done…
In the image above you can see the new pin I added where the red arrow is. It's kinda like a native ad inside a bunch of other relevant content.
When you click on that pin, a small window pops up giving you more info and if you click on the the Visit button… you're taken to the sales page using my affiliate link (I created one using Pretty Link Lite from inside my WordPress site).
Does this "old way" work?
Yes, absolutely. It works good.
But here's the problem I have with it.
On this one Pinterest board I have 23 different pins… one of them being a pin that includes my affiliate link.
Which means, unless they visit that ONE site… I have no chance of earning any commissions.
So, what happens when someone visits one of the other 22 sites? Nothing. Nothing at all happens. And that's the problem.
I'm basically sending free traffic to these other sites and getting nothing in return.
What if I told you I found a way to put your Clickbank affiliate link (or any affiliate link for that matter) in front of every single person who visits each of the sites you pin?
Introducing.. my "new way" to post affiliate links on Pinterest.
How To Post Affiliate Links On Pinterest—"The New Way"
After thinking for a few days about how I could maximize my efforts with free Pinterest traffic… a light bulb went off in my head.
Just to confirm that my idea had legs… I put it to the test and set up a quick "dummy campaign".
My goal with this test wasn't to make sales… it was to get clicks on my affiliate link. To prove that this method could drive free traffic to any Clickbank offer.
That was the goal.
So I set up a very small test just to see if it would work… and it did. I'll walk you through the setup.
It's very similar to "the old way" above. Except you need to use a free online tool and there's one extra step involved.
Here's how it works…
UPDATE (FEBRUARY 21, 2018): Pinterest has now blocked Snip.ly links. So you'll either have to have a paid Snip.ly account with your own custom domain or you can get this pretty cool tool that does the exact same thing.
Step 1: Sign Up For A Free Sniply Account
You'll need to use Sniply for this to work. Sniply allows you to add an overlay over any page of any site you want online.
Maybe you know where I'm going with this already. If not, keep reading.
Step 2: Add The Sniply Browser Extension
Adding the browser extension will save you time from jumping back and forth between browser tabs when you start pinning stuff.
Step 3: "Snip" The Page You Want To Pin
Here's where it starts to get cool.
You don't need to pin sales pages any more. You can literally pin any page on the internet.
NOTE: There are some sites that don't allow frames and you therefore can't use Sniply (but not many).
In the image above you can see what it looks like when clicking the Snip browser extension.
I set up a fake Pinterest profile and a fake Sniply account using the name Time Stone for this test.
You can see in the bottom left corner of the web page there's an overlay that includes a picture of "Tim Stone", a headline that reads "Click Here to Download 16,000 Woodworking Plans!", a button with a call-to-action of "Download Now", and the URL is my uncloaked Clickbank link.
When I'm happy with the overlay, I click the Snip button, and I'm given my new Sniply link.
Now, anytime anyone clicks that Sniply link… the baby cradle page is displayed with my affiliate ad overlay on top of it.
Pretty sweet, right?
It gets better.
Be sure you copy your new Sniply link to your clipboard before moving on.
Step 4: Pin The Page You Just Snipped
I know, I know. There's a lot of pinning and snipping going on. I promise it's not confusing once you've done it a couple of times.
Just refer back to this post if you get lost.
The next step is to pin the page you just snipped. For this example, I'll choose the third image from the left in the top row.
Next, I'll pin this page to my Kids Wood Projects board.
Step 5: Edit Your New Pin
Click the "See it now" button to view your recent pin.
Click the pencil icon at the top left and edit your new pin. Now, replace the existing website URL with your new Sniply link that's copied to your clipboard and click Save.
Now, whenever anyone clicks the "Read It" button to visit this page… they'll see my affiliate ad overlay too.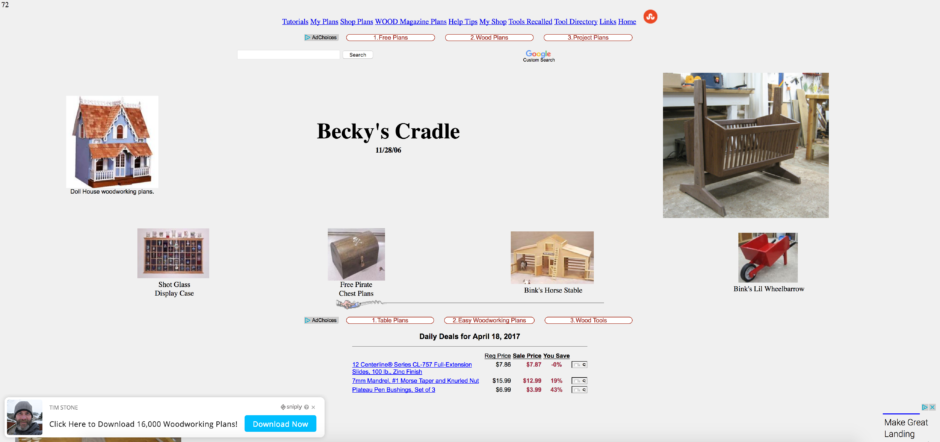 Now THAT'S pretty sweet, right?!
You're probably wondering how well this works and how many people click the affiliate ad.
Well, like I said… I didn't spend much time on this at all. I just wanted to be sure my idea would work.
To test it out, I snipped and pinned 71 different woodworking plans. My results are below:
You can see I created 71 Sniply links. Those 71 links received 176 clicks… meaning 176 people clicked the "Read It" button from my Pinterest boards.
Of those 176 clicks, 4 people clicked my affiliate ad overlay for a 2.27% CTR (click through rate).
Sniply calls the click-throughs conversions because that's my chosen action for this campaign. They also allow you to collect email address right from the overlay if you want. And, you can track conversions to sale if you're selling your own product.
Just to clarify though, the conversion rate of 2.27% in this example is really my click through rate.
Most media buyers would KILL for a 2.27% CTR on their banner ads!
Let me remind you… this is 100% free traffic. Didn't cost me a penny. Just the time it took me to pin those items.
Now, those 71 pins will generate free clicks to my affiliate links on complete autopilot for months, or even years, to come.
Just think… how many free clicks would I get if I had 500 or 1,000 pins like this?
The sky's the limit here.
How To Post Affiliate Links On Pinterest—The Advanced Method
Yep, I'm gonna take this one step further.
If you want to reap the full rewards of this free Pinterest traffic… don't pin other people's websites.
Instead, curate other people's content, put it on your own website… then pin your own website.
If I had done this with my test campaign above, I would've received 176 free clicks to my website… PLUS, 4 clicks on my affiliate link.
Those 172 other people who didn't click on my affiliate link might've clicked another ad on my site or maybe would've opted in to my email list to receive a free download.
DISCLAIMER: Be sure to give credit appropriately when curating other people's content.
Hopefully this post has opened your eyes to potential Pinterest holds. Most marketers dismiss it (like I did) as a place women go for recipe ideas and DIY crafts.
Pinterest is a massive, untapped traffic source… put it to work for you!
Questions, comments, suggestions? Leave them as a comment below… I'm happy to help!
Save
Save
Save
Save
Save
Save
Save